Giving Back-
We decided to assist 25000spins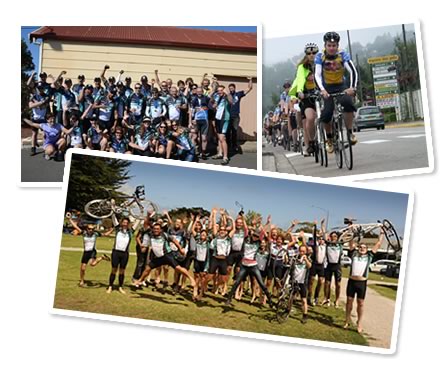 "25000 Spins is dedicated to helping reduce global poverty and making a difference in our world" explained Craig, the man behind this exciting organisation. "Every minute 17 children somewhere in our world die due to poverty related causes and 25000spins mission is to make a real change" said Craig.
We asked Craig why the name 25000spins?
Craig passionately explained, "25,000 children under the age of 5 die each day due to poverty-related causes. There are 22 billion children in the world and every second child lives in poverty. In November 2008 I was wanting to do some sort of challenge and to do something new but also meaningful.
Investment banker sees the light
At the time I was working for an investment bank in London and life in so many ways was pretty amazing. I decided to set about organizing a challenge to ride from London to Athens in the summer of 2009. My aim was to raise £25,000 for children in need. My trip of roughly 4,000 km to Athens would have my legs doing approx. 25,000 spins per day.Shockingly 25,000 children die everyday, £25,000 to raise and 25,000 leg spins per day. Hence the reason for the name 25000spins.".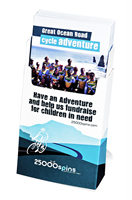 100% of all the money raised via the cyclists on the 25000spins rides goes direct to either ADRA, UNICEF, Botswana Orphan project or Compassion. 25000spins.com is a non-profit business dedicated to making a difference to children in need. Their vision is to not only make the lives of children better but to empower and challenge the people involved in the physical challenges. 25000spins organises charity bike rides in Europe, Norh Queensland and the Great Ocean Road in Southern Australia and undoubtedly there are many more exotic rides to come.
Spreading the word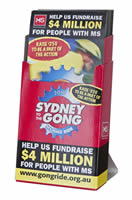 Craig asked us about displaying their promotional brochures in various locations such as cafes and we showed him our EZIPOP brochure holder. He thought it would be ideal, so as our small contribution to the cause, we printed and supplied all the EZIPOPs he could use.
Visit www.25000spins.com for more information on upcoming rides and the charities they raise funds for.
POP support for others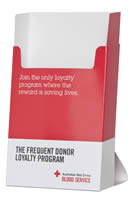 We also provide mainstream charities like Red Cross and MS Australia with discounted pricing on the EZIPOPs which we supply to them, to assist with the important work that they do. MS Australia helps those suffering with MS to cope and get the best out of their situation. They raise funds for more research via events like bike rides for MS. For more information on MS Australia, go to www.mssociety.org.au.
Red Cross, is well known for their blood service, disaster relief and recovery. As Red Cross says, "Relief in times of crisis, care when it's needed most and commitment when others turn away. Red Cross is there for people in need, no matter who you are, no matter where you live."
For more information on Red Cross, go to www.redcross.org.au.
In addition to the various ways that we try to assist these organisations, at EZIPOP we donate to many other charities like The Salvos during the year. One that we have recently become aware of and are supporting in a small way is The Mivac Trust, an organisation of mostly returned Vietnam veterans, who remove landmines and unexploded ordinance from Lao PDR. Visit www.mivactrust.org for more information.