A6, DL, A5 & A4 EZIPOP

Standard product range
Brochure holders printed just as you like them
Cardboard brochure holders that maximise your POP impact
For maximum impact at Point Of Purchase (POP), we custom print your EZIPOPs just as you would like, using your artwork or we can assist you with design and art. They can be printed to match and compliment your brochure design or can be designed with your unique colours and graphics. The most common 'Standard' size is DL or 4" wide but also available are A6, A5 and A4.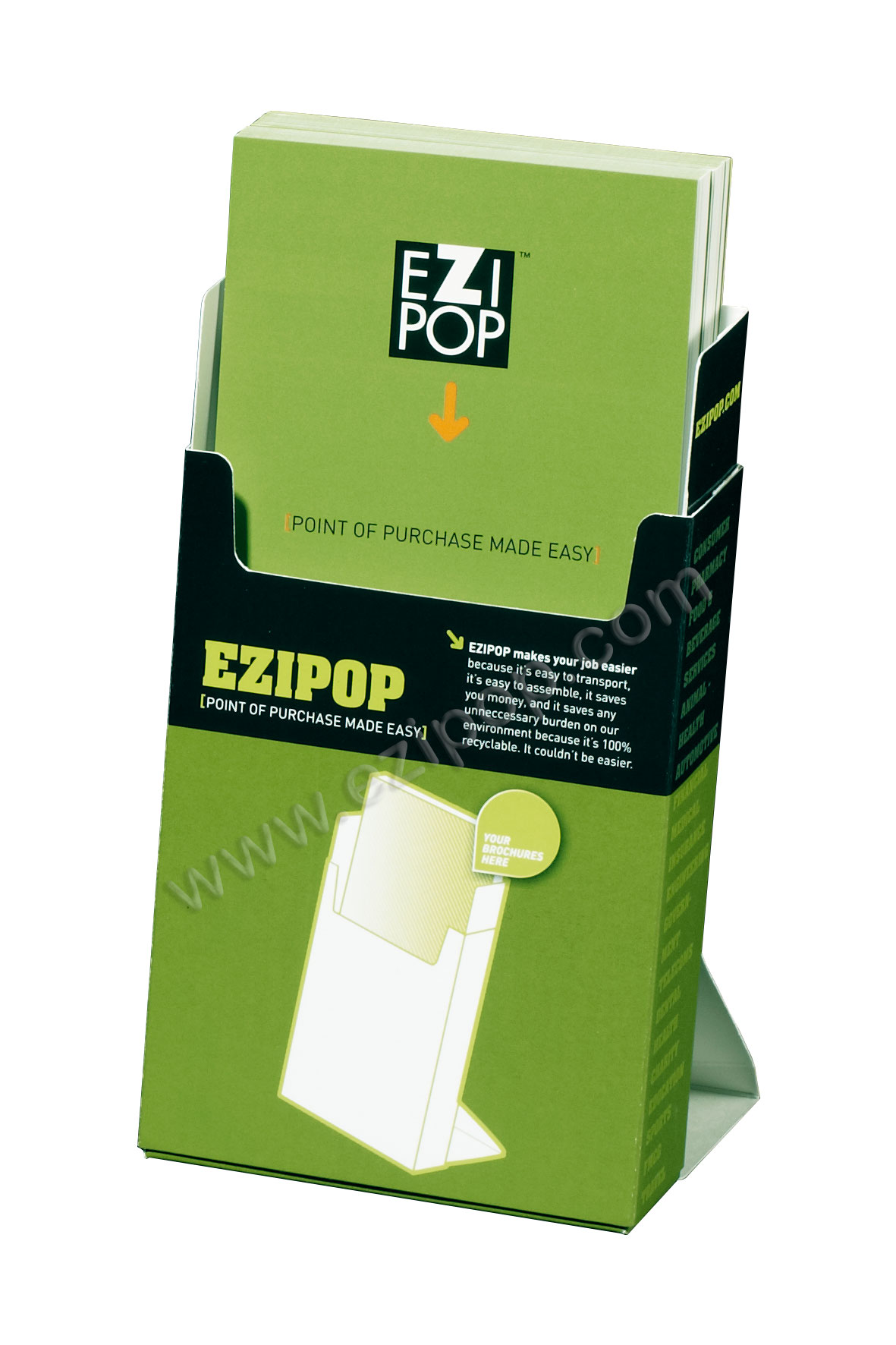 Brochure holder hijack
A significant benefit of our custom printed EZIPOPs is security against 'brochure holder hijack'. This is where someone else utilises your brochure holder to display their literature. But with a fully printed and branded EZIPOP, this hijacking almost never happens, saving you time and money and ensuring your literature is presented at it's best all the time.
Do you really want to supply free brochure holders for your opposition? Take full possession of that valuable counter space with your brochures displayed in a custom printed EZIPOP brochure holder. See blog article for more on this.
EZIPOP - Point Of Purchase made easy
Because of their patented two sleeve sliding action with pop out rear strut, EZIPOPs can be shipped flat for quick and easy filling with brochures, then display when required, or we can pre-fill them for you, making them ready for popping up at Point Of Purchase (P.O.P). And the double wall construction means they are STRONG.
Reps and merchandisers love them; they can carry a supply of flattened EZIPOPs in one shipper and replacement brochures in another, then they're simple to load with brochures and pop them up on the store counter. The magical way they pop up on a counter usually overcomes any resistance to being displayed. When we have supplied EZIPOPs fully packed, ready to go, clients find that their success in getting their message displayed is increased considerably. EZIPOPs just make it so easy for your staff.
Patented EZIPOP brochure holders can display rigid as well as flimsy material
Even a single sheet of light-weight paper can be displayed upright, without the top curling over either forwards or backwards. This is due to the 12º lean back angle and the high rear and side supports which give your brochures and flyers full support.
The design of our cardboard brochure holder has been tried and tested by many different clients, with some being regulars who re-order time after time. We can confidently say it's the best and most durable cardboard brochure or literature holder you will find of it's kind.