Generic [universal] EZIPOP
Brochure holders ready to ship
Ship-flat cardboard brochure holders: 3 sizes - A6, DL and A5
Generic or Universal EZIPOPs are held as a stock item for immediate shipment and are ideal for when you need smaller quantities [less than 500], that sometimes can't justify the set-up costs of custom printing. We can supply you with as few as 25 or multiples of 25, through to hundreds.
Be green and be seen with an EZIPOP holder
Due to their unique and patented two sleeve sliding action with pop out rear strut, EZIPOPs are shipped flat to save on transport and storage costs, then when you're ready, they're quick and easy to fill and pop up at Point Of Purchase (P.O.P). The double layer construction makes them strong and durable too.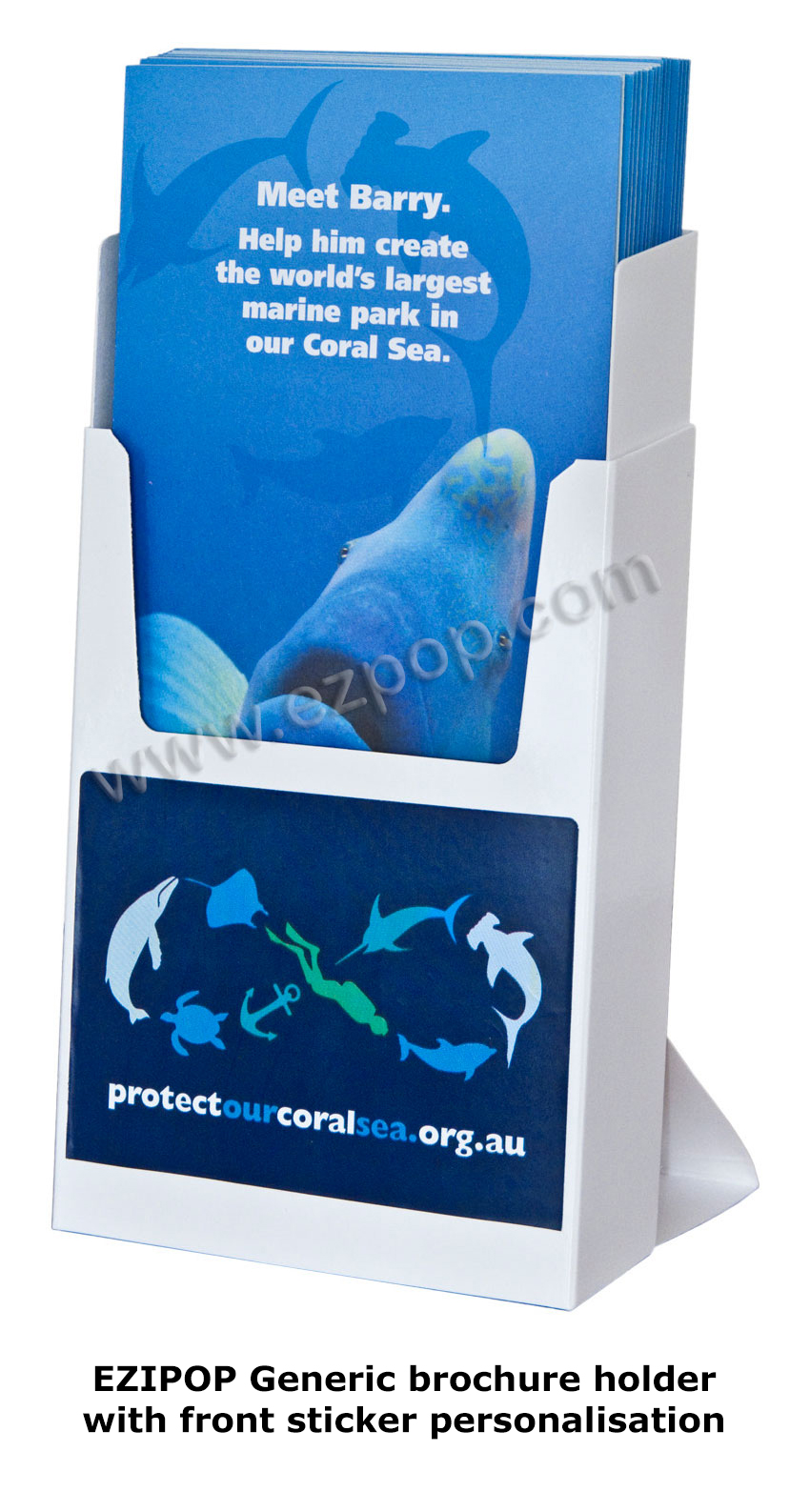 Personalise Generic [universal] EZIPOPs with a sticker like this >
For small quantities, you could print suitable labels on your office printer or for larger numbers, have them printed professionally like this example. Click here for a DL size EZIPOP front panel template. Contact us for front panel dimensions of A6 or A5 size Generic EZIPOPs.
Our patented design allows you to display rigid or multi page brochures, as well as flimsy single sheet leaflets
When popped up on the counter or shelf, the high rear and side support being angled back at exactly 12º can hold even a single sheet of paper upright, without the top curling over either forwards or backwards. The design of our cardboard brochure holder has been tried and tested by many different clients, with some being regular clients who re-order time after time.
We can confidently say it's the best and most durable cardboard brochure or literature holder you will find of it's kind. And our Generic EZIPOP brochure holders provide the opportunity for even the smallest business to be able to display their information literature in a stylish and professional way.